Unusual model Locos
In memory of Colin and Marjorie Binnie
Photos of unusual locos are regularly posted on the 16mmngm e-group. Some are photos of prototypes, and are usually accompanied by a subject line of "There's a prototype for everything.". Other photos are of operating models, either of the same unbelievable prototypes, or freelance designs. Here are some of those models.
Graham Stowell is a prolific loco builder. Most of the photos of Stowell locos here were taken by Colin Binnie, and were posted on the e-group to cheer everyone up during a miserable January when everyone was stuck indoors and couldn't get out to play trains.
First up an electrically powered loco described by Colin as Graham Stowell`s 0-4-0 oddball tank loco, photographed shortly after painting. This loco is about 1/12th scale and now lives in Wrexham. There are three photos of this one. Click on the thumbnails to see the larger versions.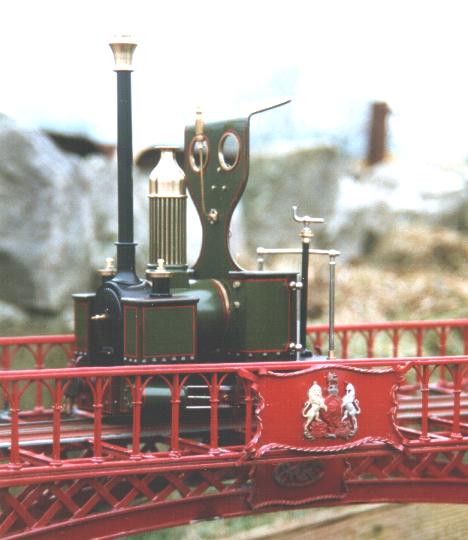 Battery powered 0-4-0 Tank loco, running across
Colin Binnie's "Bridge at compost corner".
Photo © 2001 Colin Binnie.

Below is another one of Graham Stowell's creations circulating on Colin Binnie's line. It's about 9 inches high to the top of the chimney. Steam powered.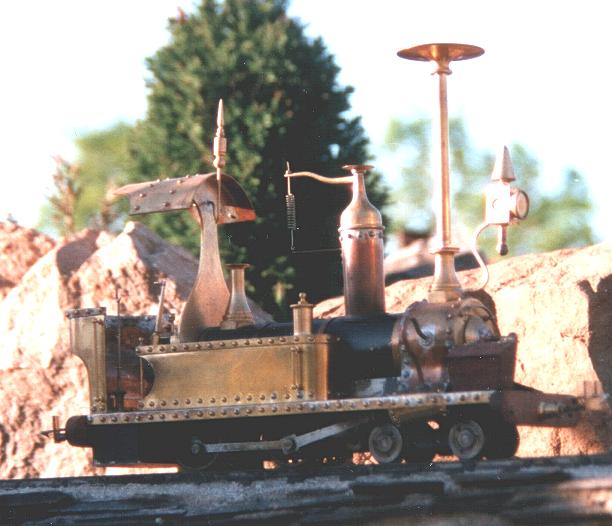 A Stowell 4-4-0 with tall chimney, unpainted.
Photo © 2001 Colin Binnie.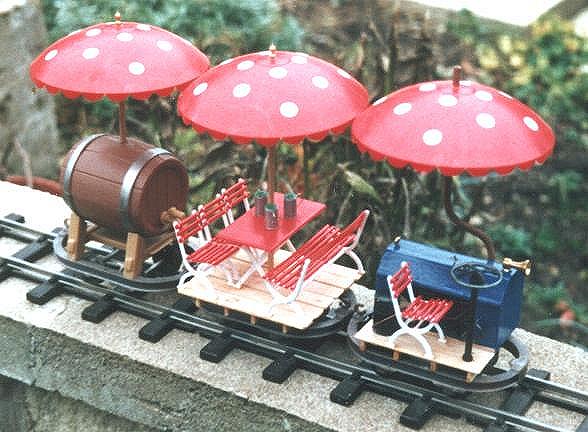 Cafe train. Graham Stowell
Photo © 2001 Colin Binnie.


I'll let Colin explain the next one:
So here to brighten up the Monday morn of all you young fellows who are slaving to pay my pension is another of Graham Stowell's locos. Graham is always first in the queue at any second hand stall so this engine and its sister are rebuilds of 'Burton' single cylindered steam O gauge 0-6-0T 'jinties'.
The lovely thing about these is that due to the long chimney and single cylinder, given a nice cold day they go along puffing perfect smoke rings. Has to be seen to be believed but Graham assures me that it is totally accidental.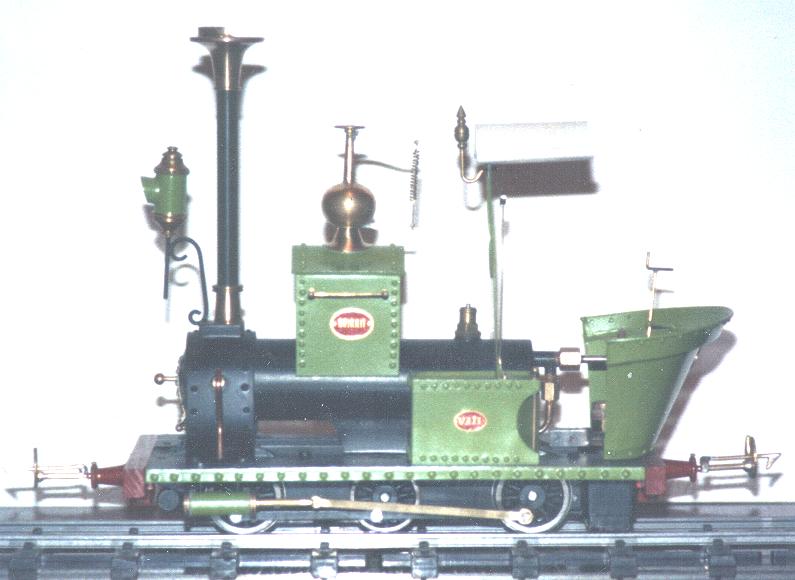 Based on a 'Burton' O gauge 0-6-0T Jinty.
Photo © 2001 Colin Binnie.
Someone was foolish enough to give Graham a single secondhand cylinder with the challenge of
'show us what you can do with that then'
. This was the result, single cylinder, offset boiler and all. Based on 'Cricket' This picture and the following one were taken on Colin Binnie's line. One 'fresh out of shops', next one in service.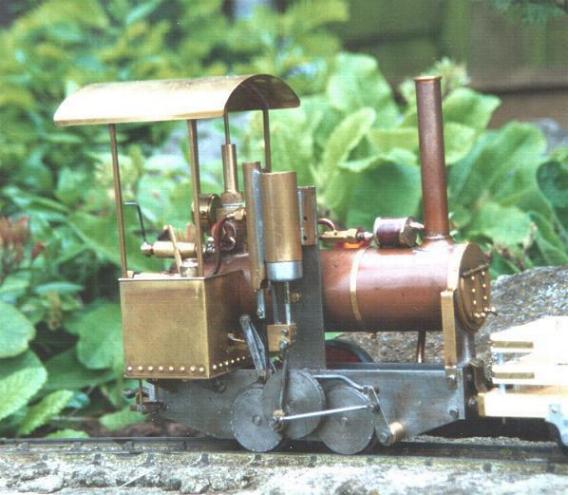 "Show us what you can do with that then, Graham!"
Photos © 2001 Colin Binnie.



Another of Graham's engines, this time using Mamod cylinders driving on the middle of the coupling rod rather than the crankpin.
As Colin put it: I said he was mad...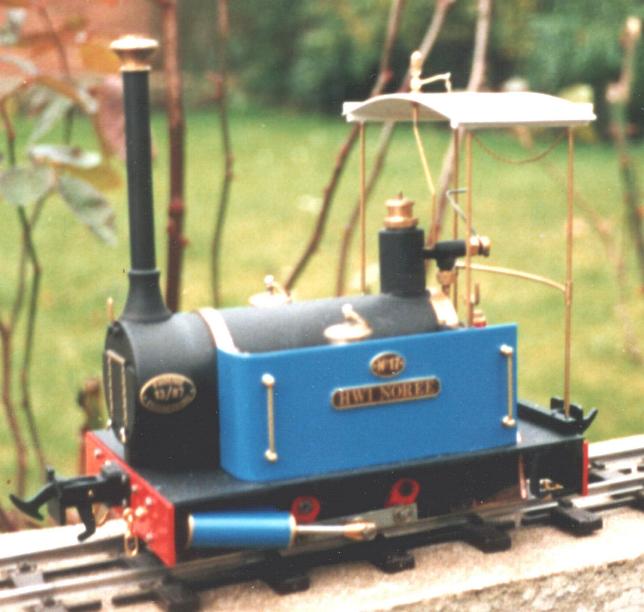 In about 1998, Graham visited Colin Binnie, and took with him some of his current projects, seen here on the Binnie dining table.
I'll let Colin take up the story...
Graham casually remarked that he had done four others that year so far. It was August. It makes me sick!!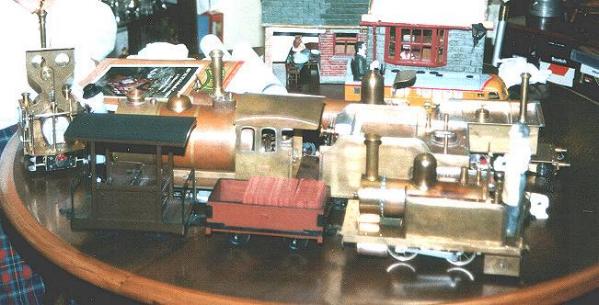 In the collection above, there's a rather fat looking loco.
The story is that Graham, who cannot pass up a bargain, bought some half finished 2 1/2" gauge bits and inspired by Hornby clockwork came up with this. It's very heavy; a real railbender and apparently, totally unstoppable.
Colin concludes: He has named it 'Glen Shiel'. Though pehaps 'Butch' or 'Crusher' might be more appropriate. Well, here is a picture of it finished and in full cry on the Moria line. I like it though I feel I shouldn't.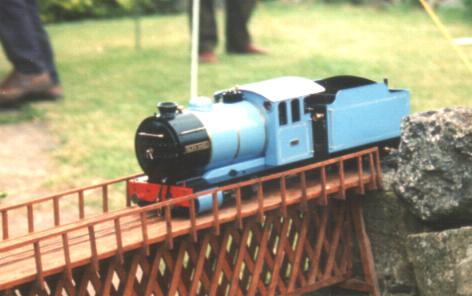 Graham Stowell's 'Glen Shiel' on Colin Binnie's Moria Line.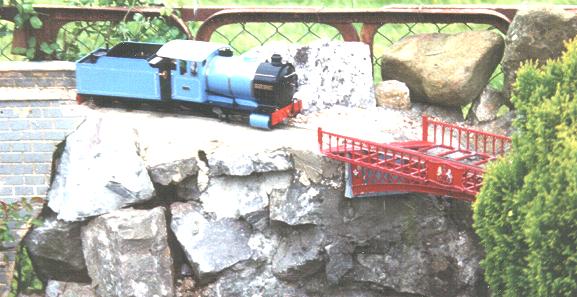 Another photo of Graham Stowell's 'Glen Shiel'
There will be more...