Andy's Garden Railway Guide
Trains...
You are in Andy's Garden Railway Guide. If you've arrived here directly from someone else's site, or from a search engine, please visit the home page.
On this site, there's lots of useful information about building a railway outdoors in 16mm/ft, and my own experiences.
My chosen scale is 16mm/ft (what does scale mean?). This scale is usually used to model narrow gauge railways of around 2 foot (600cm) gauge, using 32mm gauge track.
There's some information about other garden railway scales here
Below are all sorts of fascinating things about trains and railways, not necessarily in model form. Other things that fascinate me in can be found on the Insane Engineering page.
---
Garratt articulated locos
I'm very interested in Garratt locos. You can learn about them and what this wooden train is doing on a "serious" (cough!) railway website
on my Garratt page

© Andy Watkins
---
L&B Lyd in steam
On the
Ffestiniog railway
(in the top left hand corner of Wales), a group of volunteers have been working for about 15 years to build a replica of an iconic English narrow gauge locomotive. The new 'Manning Wardle', called
Lyd
finally raised steam in August 2010.
The original on which Lyd is based ran on the
Lynton & Barnstaple Railway
in Devon (which closed in 1935).
More details of the build can be found here.
---
Automatic track laying
Machines used to fix the railway are painted yellow, and look a bit different to the road-bound ones. You don't see them very often.
I spotted one recently. As well as normal inflated rubber wheels, it's got railway wheels so it can run along the tracks.

© Andy Watkins
Well, here's a feast for you: not one, not two, but all of the yellow toys all out at the same time, in this video of an automatic track-laying train. (somewhere in Belgium, I think - the video isn't mine)
I was particularly impressed by the railway ON TOP of the sleeper wagons.
---
Moving a Big Boy by road
As if moving
Station buildings
and
Stone Churches
wasn't enough, here's a Union Pacific Big Boy, one of the largest steam engines in the world, being moved to a display in Ohama, Nebraska, USA.
This is 600 tons of steam loco. Normally, it would sit on its rails, and you wouldn't think anything of how heavy it is (apart from its sheer size), but here, you can get an idea of just how enormous it really is.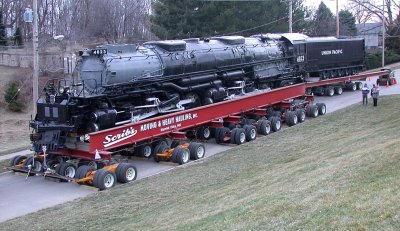 © Paul M. Rome.
railpictures.net
There are more photos of the same loco, numbered 4023, here, and more details of this beast in the Wikipedia
---
A Station building on the move
Just when you thought it was safe to go for a peaceful trip along a river, along comes a railway station! This is the 'Kwinitsa' Railway station, on a lorry, on a barge, going for a cruise down the Skeena river in British Columbia, Canada.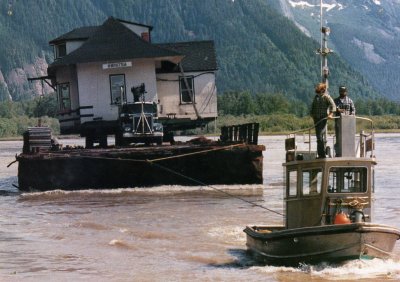 © Howard Watkins.
Actually, it was being transported to Prince Rupert Waterfront Park to become the Kwinitsa Railway Museum, a small museum about the Grand Trunk Pacific Railway in Canada.
This station was originally build in 1915, along with around 400 other similar stations along the Grand Trunk Pacific Railway. Only four remain, including this one, which was relocated in 1985.
---
Large Scale model railways in small spaces
I recently came across a modelling scale called "Gn15", which aims to represent 15-inch gauge railways in "G" scales (approx 1:20th on standard OO gauge track). The idea is that it allows the modeller to create extremely detailed models because of the large scale, yet in a small space, typical of very narrow gauge railway.
There's a lot more information on this Gn15 website.
For those interested in constructing "Micro Layouts", there are examples and plans available from Carendt.com
And as if Gn15 isn't crazy enough, there's another bunch of people modelling in the same scale, but on even narrower track. They're using N gauge track, which would typically represent about 7 inches between the rails in G scale. They've called this Gnine (pronounced with a silent G!)
---
Industrial Archaeology using Google Maps
A scar on the hillside and some ventilation towers, found whilst searching Google Maps, shows where a tunnel was built. This appears to be
Kilsby tunnel
just outside Daventry, east of Rugby.

© Google Maps. Click to View Larger Map
At first glance, the line across the hill, and the present field boundaries suggest the tunnel was a cut-and-cover job, but other resources suggest it was tunnelled. Perhaps the features along the top show the remains of a haulage road used during construction.
Zoom in, and follow the tunnel (which runs diagonally from the top-left to the bottom-right, if you haven't yet found it). Read the Wikipedia entry, and find out more.
---
Unconventional shunting
March 2008:
Here's an interesting way of shunting wagons about. It strikes me that it has more in common with the "hand from the sky" shunting found at model railway exhibitions, than with a real railway, and looks like it'll be a bit rough on the rolling stock!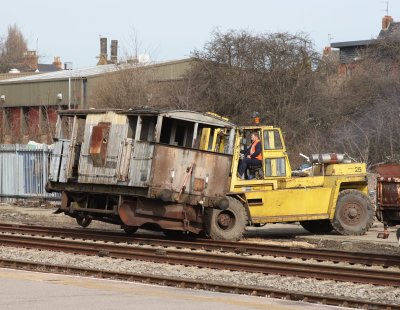 © Andrew Chambers
Andrew Chambers has more photos of shunting using a forklift truck and a digger on his Fotopic site. The entertaining sequence starts here
---
Burning Coffee as Loco Fuel
January 2008
A long time ago, someone told me that the Brazillians use Coffee beans in their steam locos at some point. It's true!
The background seems to be related to the Great Depression (~1929). There was a massive over-supply of coffee following the stock market crash, and suddenly nobody wanted to buy the stuff any more. The price plummetted and coffee was stockpiled, unsellable. Someone had a great idea that, instead of just throwing it in the sea to dispose of it, one could burn it in locomotives.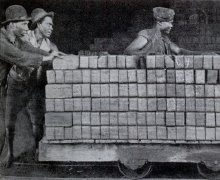 Compressed Coffee Bricks : loco fuel.
The use of coffee as a fuel was reported in "Popular Science" in December 1932. A cutting can be found here. I should think it smelled wonderful.
---
Shanghai Maglev. 250mph.
October 2007:
Here's a video of the Shanghai Maglev, taken in 2007. This train reaches 250 mph (that's just over 400 km/h). That's insanely fast! It's twice the speed of the fast trains in the UK, and faster than the TGV.
---
© 1999-2016 Andy Watkins
andy@wis.co.uk